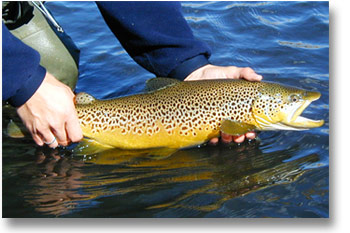 Winding through the majestic Wasatch Mountains in a setting as beautiful as can be imagined runs the famous Provo River. This trout filled river offers over 30 miles of superb blue ribbon water. Here, consistent flows are clean and cold, playing host to an absolute abundance of aquatic life. The incredible food source of this river combined with storybook runs and riffles fashion perfect habitat for fat, healthy trout as well as superb water for wading and fly fishing. Wild Brown, Rainbow, and Native Cutthroat trout all flourish here. Guided trips on the Provo are offered year-round and the fishing is exceptional throughout.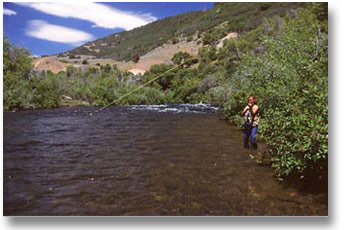 The Middle Provo River
Flowing through a quiet valley of ranches and farms, this picturesque section offers an entrancing setting that is both relaxing and remote. On a bright summers day the riffles shimmer and sparkle while wild grasses and flowers wave and dance in the intermittent breeze. Giant Cottonwoods provide cool shade over darkened pools and cut banks. And with an ethereal sense, you can see the monsters at the bottom of these pools.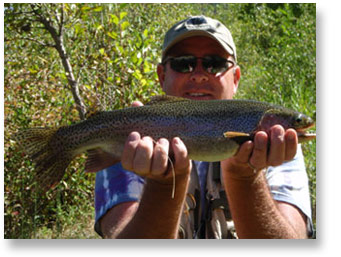 Ever present, the magnificent Mt. Timpanogos looms, overseeing all on a canvas like background. The setting is nature's own definition of peace and calm. And just how good is the fishing? Last season, during our 'fantastic flurry' Caddis hatch, we noticed that 2 of the 3 cars parked at one of the access points had Montana plates. If that's not proof of our resource we mused, what is? Our guests have seen and fished for 24 inch Brown trout slashing at surface flies with not another soul in sight.
The Lower Provo
Fly fishers from anywhere would be hard pressed to find a river that consistently produces the kind of fishing and landscape one can enjoy all year round on this renowned fishery.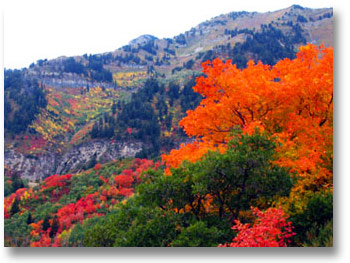 Spilling beneath Deer Creek reservoir flows some of the most prolific, wild trout water in the world. Spectacularly scenic, this hallowed section of river winds and bends its way through breathtaking Provo Canyon. Running through a deep gorge of absolute splendor, these amiable waters are graced by four seasons of visual masterpiece. Wild Brown, Rainbow, and Cutthroat trout inhabit this section in vast numbers, as food and cover are both abundant. Reports from our own Division of Wildlife Resources put actual numbers of fish in this section at over 4000 per mile. With those odds, maybe that's why our guests never get skunked.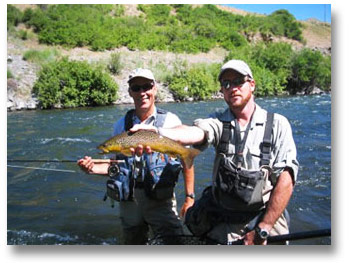 With the right guide, you would have to try extremely hard not to catch a number of feisty trout here. The average size is an incredibly fat 16 to 20 inches. And many of the trout hooked are indeed, much larger, only to become the size of the Loch Ness by dinnertime. It's true. We've seen it happen. The number of trout per volume of water flow in this section exceeds by far that of the Green River, or any other piece of trout water in the state.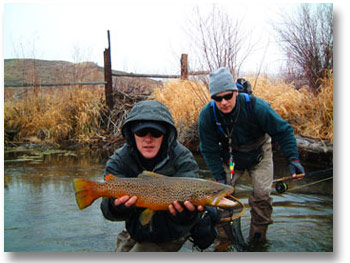 Summary: Just 30 minutes from the Salt Lake International Airport, our waters are nothing less than boastful in a display of wonderful variety. In one day you might hook 3 species of trout using 5 different methods and a dozen different flies. As in all things, there is nothing like an array of activity to make the day enjoyable, and incredibly exciting. And at the end of a fantastic day there's Sundance Resort, home of the Sundance Film Festival, gorgeous mountain lodging, restaurants, shopping, and more. To make your reservation for a few guided days on these hallowed waters, just call our toll free number listed above. You may also email us by clicking here. We look forward to helping you set up the fly fishing trip of a lifetime.